---
Farmers in Maine are detecting serious problems with the quality of their soil and groundwater. These environmental issues threaten the integrity of their crops and the very existence of their farms.  Toxic "forever chemicals" are concentrating in the water and the soil, polluting the crops and poisoning the food supply.
Forever chemicals such as perfluorooctanesulfonic acid and per- and polyfluoroalkyl substances (PFAS) and (PFOS) are pervasive in soils and waterways throughout the United States due to repeated use of toxic biosludge fertilizers.
In Maine, these environmental issues are being addressed by the Maine Farmland Trust and the Maine Department of Agriculture, Conservation and Forestry (ACF). Maine has the strictest regulations for PFAS concentration for agriculture in the United States. However, there are no federal laws limiting the amount of forever chemicals in foods. Farmers are voluntarily having their soils tested and sometimes find shocking results.
Sewage sludge fertilizers could bring American agriculture to its knees
One of the main sources of PFAS is sewage sludge. This biosludge contains nutrient-rich biosolids that are derived from treated wastewater and human sewage. This sewage sludge is made into fertilizer and spread across farms all across the United States.
Many of these "fertilizers" are labeled all natural or eco-friendly, but in reality contain heavy metals, pharmaceuticals and a host of environmental toxins that threaten human health. Researchers from the Ecology Center and the Sierra Club found that these biosludge fertilizers can contain PFAS levels that surpass environmental regulations set by the state of Maine.
The continual use of biosludge on farmland will eventually bankrupt the soil, turning crops into poisonous vectors that contribute to cancer, hormone dysfunction, reproductive issues and immunosuppression.
Farmers in Maine are facing an ethical dilemma that threatens the very survival of their farms and livelihoods. As more farmers test their soil and groundwater, they learn that it is unsafe, with high concentrations of PFAS and other toxins.
The owners of Songbird Farms in Maine voluntarily tested their soil and water. Their land had become so toxic that the family had to pull all their products from store shelves. The farmers nearby Songbird Farms are nervous that their crops are equally contaminated.
Many small farmers are hesitant to test their soil because the reality of its toxicity could bankrupt their entire farm. Still, many farmers want to make sure their crops are safe to eat. Next to Songbird Farms is the small Turner family homestead. The Turners produce much of the food they eat, but now they want to know if it is safe to consume and sell at their farm stand.
"They want to know 'do we grow our crop or do we not?'" said Tricia Rouleau, farm network director with Maine Farmland Trust. "This is the season now where farmers are planning their summer crops and they are in limbo right now."
The ACF has been meeting with farmers to discuss the future of their farms and potential remediation strategies. Many farmers refuse to test their soil because the soil test data is shared with the state and would require further mitigation efforts.
If the groundwater tests high in PFAS, the state of Maine will offer the family bottled water and/or water filters to protect them. Because there are no federal or state food safety guidelines for PFAS and PFOS in food, there isn't much the state can do to protect the public or enforce regulations.
However, the state of Maine has taken the lead and established food safety thresholds on a product-by-product basis. So far, the Maine Center for Disease Control and Prevention has established guidelines for milk and beef produced in Maine.
The U.S. Department of Agriculture is working with Congress to provide farmers with financial relief so they can get their farms tested, their water purified and their soil remediated. However, the government has yet to address the root of the problem – the proliferation of forever chemicals from the biosludge fertilizers being spread across farms.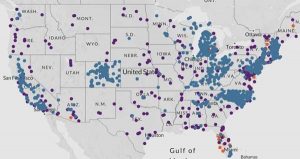 The map above provided by Environmental Working Group details the PFAS crisis in the United States. Blue represents water contamination. Purple represents contamination at military bases. Orange represents other suspect industrial sites.
For more on this topic, visit Pollution.news.
Sources include:
Submit a correction >>